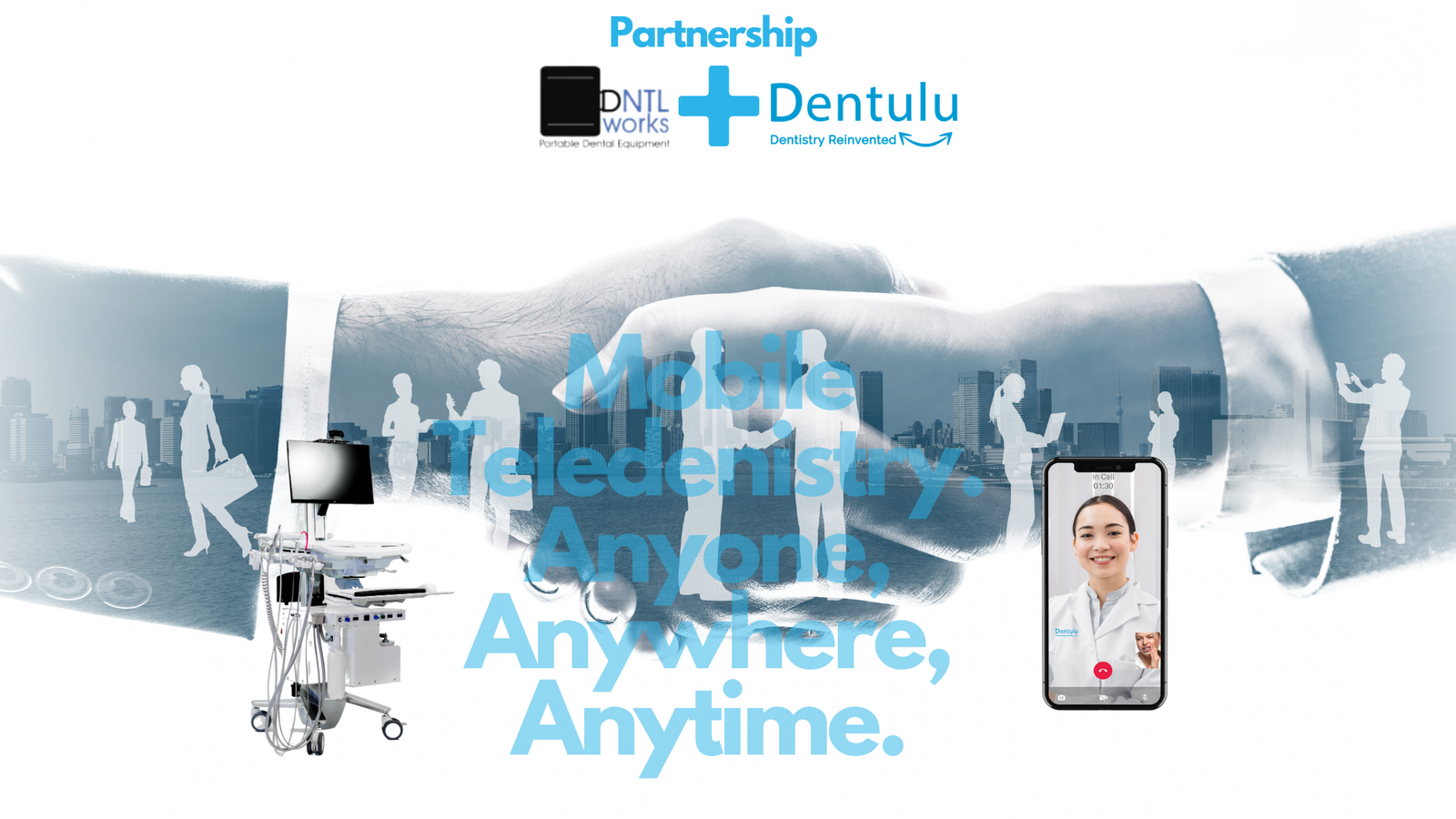 DNTLworks Portable Mobile Dental Equipment partners with Dentulu to provide Teledentistry software to its customers. 
Centennial, CO - DNTLworks, the leader in portable mobile dental and veterinary equipment, has formed a partnership with Dentulu to provide customers with greater access to better and more affordable Teledentistry software. This partnership combines DNTLworks cutting-edge mobile dentistry manufacturing technology with Dentulu's award-winning teledentistry software and services from Dentulu.
Mobile dentistry and onsite dental care have seen a dramatic increase in popularity with recent changes in legislation and new demands stemming from the impact of the Covid-19 pandemic on the dental profession. Mobile dentistry providers include dentists and dental hygienists who rely on running their practices on integrated and consolidated Teledentistry platforms. Mobile clinicians utilize a variety of different software solutions to maintain communication with their patients and other providers. Still, they have lacked affordable and secure solutions that have been customized for mobile dentistry. 
"Over the last 30 years, DNTLworks has garnered the reputation as the leader of portable mobile equipment with consistent and progressive technology solutions for the needs of our customers.   This tradition of continuous innovation with our industry's changing needs has led us to adopt new partnerships with other industry leaders whose products and services complement ours: John Basinger, Director of Sales DNTLworks. "Traditionally, a mobile dentist or hygienist has to search and pay for multiple different software companies to run his/her practice efficiently. With Dentulu's award-winning technology coming standard with all of our equipment, our customers benefit from a single, and secure software solution awarded the best of class in the industry," continues Basinger. 
DNTLworks plans to release a series of mobile equipment running from portable dental carts that can be carried onsite to businesses, homes, and remote locations where access to dentists may be limited. The company is also releasing a hospital-grade mobile cart integrated with Dentulu's Teledentistry software to be utilized by emergency rooms, urgent care centers, and other medical facilities that receive dental patients. 
 DNTLworks customers will not only benefit from the traditional Teledentistry services Dentulu offers but will also be added to Dentulu's directory for mobile clinicians helping them acquire a steady stream of patients. The platform functions as an "uber-like" mobile application that provides consumers direct access to mobile dental companies while also providing an enterprise solution that helps the clinicians run their practices more efficiently. DNTLworks products will also be available for sale to thousands of dental professionals through Dentulu's marketplace. The growing number of mobile providers will have access to new and innovative products launched by DNTLworks. 
The company expects to launch their new teledentistry services to customers next month.  
_________________________
DNTLworks is an equipment manufacturing company with over 30 years of experience providing portable equipment to the dental and medical industries. Additional information is available at www.dntlworks.com
Contact Information: 
John Basinger, Director of Sales
jbasinger@dntlworks.com
(303) 693-1410